Fun and Funny St Patrick's Day Shirts, Buttons and More
I've always loved Saint Patrick's Day because I'm part Irish - but also because I like leprechauns. They're mischievous little folks who are always trying to earn a fortune in gold through trickery. I also love this holiday because the very first design I made and placed on Zazzle was made for St. Paddy's. I still like this design and can't look at it without smiling.
Here he is - the Lepre Con. Poor little man. He's in trouble with the law:
I have some more funny leprechaun t-shirts, too. This one is my favorite:
More Fun Items for Saint Patrick's Day
Zazzle has more than t-shirts and buttons, though. The can and bottle foam coolers are new. Keep your drink cold while you celebrate St Paddy's: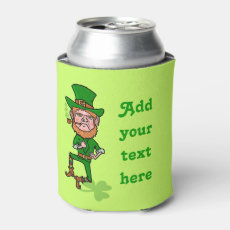 Funny St Patrick's Day Leprechaun Add Your Text Can Cooler
by
HaHaHolidays
Pretty Saint Patrick's Day
You don't have to celebrate Saint Patrick's Day via a hard-drinking leprechaun, though. Maybe you're looking for a more subtle or elegant feel. I added a new line of items to the FancyCelebration store this year, all with a pretty shamrock watercolor design. Here are a few pretty items from the set, which includes pillows, kitchen towels, craft ribbon and fabric, men's ties, wrapping paper and even an elegant invitation.
See the whole set here
.
Saint Patrick's Day Shamrocks Retro Watercolor Tie
by
FancyCelebration
Own Your Very Own Irish Pub
My all-time favorite, though, is the personalized Irish pub line. It's part of my bigger selection of personalized sets
HERE
, which includes a saloon, a diner, a brewery, a coffee shop, etc., so far. Check out all the varieties!
Here is the custom Irish pub design on a clock and coaster set. Easily add your name, monogram and established year.
Thanks for having a look at all my Saint Patrick's Day designs. Erin Go Bragh!